---

THANKS FOR THE SUPPORT!
The project has officially ended
ABOUT THE PROJECT
REGALIA FOR THE WRETCHED: AN ELDRITCH FASHION ZINE is a celebration of fiends in formal dress, abominations in ballgowns, and shadows in suits.Regalia for the Wretched is a for-profit zine that explores the idea of otherworldly creatures in formal wear - a special celebration for those who love all things both grotesque and opulent! We'll be featuring original SFW works from a variety of visual artists, with a shared affinity for the eerie.
ZINE SPECIFICATIONS
• 5.5" x 8.5" full-color SFW art zine
• Perfect bound
• 50+ artists
• 50+ pages
• Merchandise offered
ARTIST COMPENSATION
This is a for-profit zine. Revenue will be used for zine production and shipment costs, after which the remaining profits will be divided evenly between all contributors. As a baseline, all artists will be entitled to receive a free physical copy of the zine.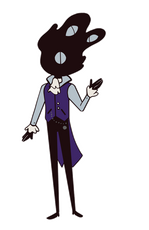 SCHEDULE
| | |
| --- | --- |
| APPLICATIONS | |
| Interest Check Opens | MAR 1 |
| Interest Check Closes | MAR 22 |
| Artist Applications Open | APR 5 |
| Artist Applications Close | MAY 5 |
| Acceptance Emails | MAY 19 |
| CREATION | |
| Creation Period Begins | MAY 21 |
| Check-in #1 | JUN 18 |
| Check-in #2 | JUL 16 |
| Final Submission | AUG 13 |
| RELEASE | |
| Preorders Open | SEPT 15 |
| Preorders Close | OCT 31 |
| Shipment | FEB 2022 |
| Leftover Sale | APRIL 2022 |
TEAM
MODERATION TEAM
GUEST ARTISTS
MERCH ARTISTS
PAGE ARTISTS
...AND YOU!
FAQ
How can I apply?


Applications are now closed! Results have been sent via email! Thank you for your support!
What kind of creatures are you looking for?


We are looking for designs with a primarily uncanny horror vibe (cannot just be anthropomorphic). These creatures are expected to wear formalwear or accessories on their being. The clothing can be any time period past/present/future, and from any ethnicity/culture (as long as it is culturally appropriate).
If you feel your design is within this spectrum, it will most likely be allowed:
That being said, if you feel your design isn't within this spectrum, or goes beyond these extremes, it may still be allowed! For more specific descriptions, you may refer to our content guidelines
Are we allowed to use designs from pre-existing franchises?


We are looking for strictly original characters, however we are not opposed to designs heavily inspired by pre-existing media.
Would you be ok with interpretations/twists of already known cryptids?


Designs based on cryptids are absolutely fine!
How many pages can 1 page artist have?


We will be allowing at most 2 pages per person. We're open to double-page spreads and comics within the 1-2 page limit. You're free to use the space given however you want as long as your intentions are clear from the conceptualisation stage!
Can my zine submission include more than one creature?


Yes, you are allowed to add as many creatures as you want to your piece/s.
Is this zine SFW?


Yes this is an SFW zine. Artistic nudity and extreme gore are not allowed, however we will be allowing body horror and mild gore.
Will minors be allowed to participate in this zine?


No they will not. We will only be accepting candidates who are 18 years old and above. This is a for-profit zine, and we will be unable to provide financial compensation to any minors. However, borderline cases may still be accepted. As long as you turn 18 by the end of our creation period (August 2021), you can apply to the zine.
Do I need previous zine experience to join this zine?


No, it is unnecessary.
What type of media are you expecting?


We are looking for strictly visual arts and merch art, in a variety of styles.
Will traditional art be allowed?


Yes, provided the artist has the means to scan their piece in high resolution.
Will I be able to sell my art contributions after the zine?


Yes, once copies of the zine have completely sold out, artists are free to post and use their final pieces how ever they want.
How many artists will you be accepting?


Based on the interest check responses, our current estimate is 30-50 artists.
Is this a digital or physical zine?


We will be selling both digital and physical copies of the zine, as well as merchandise.
Will you be opening moderator applications?


We will not, sorry!
What will the primary form of communication be?


We will be communicating primarily through discord and emails.
Will this zine be shipped internationally?


Yes it will be available internationally.